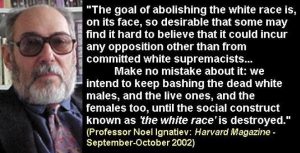 An oy vey my life already nomination for hirsute Marxist former steel worker soon to become noted 'historian' (yeah, stories alright) Noel Ignatiev.
Another clown using their precious,elitist ethnicity to deny their own skin colour and project all blame for the worlds ills on 'whiteness'. In other words, everyone else not in the tribe.
Where have we heard this claptrap before? 80 years of demonizing Germans but when the jackboot is on the other foot, well, that's ok,innit.
What this intellectual colossus claims is that the extinction of a group of people would be a good thing only goes to show the sheer chutzpah of someone whose own tribe have bleated their victimhood for decades.
Here's some examples:
https://www.azquotes.com/author/33287-Noel_Ignatiev
Wikipedia will also attest to this shit stirring racists beliefs should anyone wish for further corroboration of the thoughts of Chairman Noel..
He really should have changed his forename given the potential Christian connotations of that word.
Don't forget kids: "treason to whiteness is loyalty to humanity", but for now at least,he'll have another shit stirrer nestling alongside him in the sewers of Hades , enjoy your co-habiting with Darth Bader Ginsberg.
Proceed, walk this way to the lampshade and soap (and other fairy-tales) plant.
Nominated by: Cuntlestiltskin
(Just a quick note: this old cunt died in November 2019 – DA)