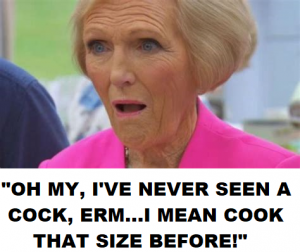 An icing sugar and self raising cunting please for this hoity-toity, up her own decrepit arse old tart, who, because she became a "national treasure" for making a few French fancies on the telly is going to be awarded a damehood for her trouble:
https://www.dailymail.co.uk/news/article-8802613/Mary-Berry-dame-Queens-Birthday-Honours-list.html
Fuck me sideways with Jess Phillips mammoth strap-on. and no lube – why?. The silly old cow does what she is paid to do on some low rent TV shows for middle class wimmin and poofters on the telly. She hasn't discovered a vaccine for Covid19, she has just tarted up a lemon drizzle cake (the drizzle probably provided with her own piss).
There are far too many of these self regarding old bags with a plum in their mouth and a condescending attitude getting silly titles. (Jenni Murray, Baroness Scotland for example) come to mind. This can only encourage other self satisfied old matrons like Eddie Izzard to try for a title. The honours system really needs winding up for useless cunts like these. Fuck em.
Nominated by: W. C. Boggs