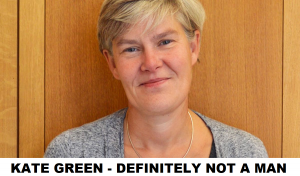 Let's have a rousing chorus of The Red Flag as we give a cunting to the dykie looking shadow minister for Edu-kation, Kate Green. The baritone voiced harridan wants Gavin Williamson, to "guarantee" the poor little bubbas at "uni", especially in Manchester, can go home at Xmas to see their fam-i-lees.:
https://www.bbc.co.uk/news/uk-54313054
Does the silly bitch not realise that life doesn't come with guarantees?. How can any sane person (admittedly most Labour wimminz are not sane – some indeed are certifiable) – guarantee anything on these "unprecedented days" 10 weeks hence?. Is the dirty ugly fucker for real?. Along with Anal-ease Ken Dodd, they look as raddled as Miss Havisham, women who have cobwebs in their bloomers.
This is just another prime example of Dame Kweer's mincers and benders trying to stir up fear, uncertainty and discontent.
Dame Kweer- the maiden aunt back seat driver, who is as thick as pig shit and twice as nasty.
Butch Kate ought to get together with Bulldyke Phillips to "prove" that students are the victims of the patriarchy. Along with the Starmer charmer they would be all girls together. Girls Aloud.
Students knew the 2020/21 intake was going to be challenging. If they can't stand the heat they should have stayed out of the kitchen. Wankers – which, come to think of it, is probably what they are doing in their halls of residence.
Nominated by: W. C. Boggs