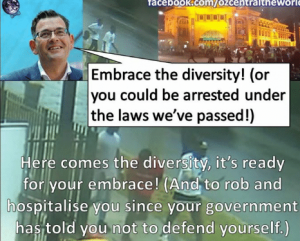 Daniel Andrews is a stupid cunt!
Among a raft of illogical torturous convicted regulations relating to exercise by the public in the state of Victoria In Dropbearland, released by him is the following:
"Cricket teams may now practice in the lead up to the southern summer season, but only in groups of 10 persons max".
Think on that.
What a fucking specky jug-eared twat.
And now you have Boris and his bureaucrats workshopping up a suite of similar monomaniacal whims to impose on the good folks of Blighty. Give me and you fucking strength
Nominated by: Three Strokes
(More general infromation about this cunt from down under – DA https://www.dailymail.co.uk/news/article-8758579/Daniel-Andrews-demands-extraordinary-new-law-let-government-officials-arrest-Victorians.html