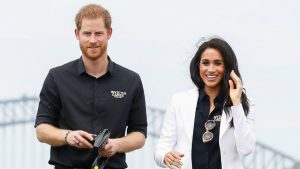 It gives me no pleasure at all to offer the Duke of Sussex up for execration yet again. What has the cunt done now? I hear you ask. A deal with Netflix. We know, I hear you say, scornfully. Old news.
No, cunters, this is the follow-through to that diplomatic fart. He's shat on the Invictus Games, the only thing that actually justifies the cunts existence, though not his avarice. Apparently the Games were to have been shown on Amazon, and Netflix told him to withdraw his support. And he did, the pussywhipped nomark. What a cunt.
https://paperdabba.com/2020/09/07/harry-and-meghans-brutal-move-days-after-150m-netflix-deal/
(Originally a Times (paywall) article, confirmed . However, it is now the subject of a legal complaint by Sue Grabbitt and Runne for the Duke of Cunts. Guess the legal profession's falling over itself for those two )
Nominated by: Komodo 
..and seconded by General Cuntster (Deceased)
An auxiliary cunting is in order for…who else…Mr. and Mrs. Markle-Hewitt.
Let's get right to it:
Immediately after signing the deal with Netflix, Mr. and Mrs. Markle-Hewitt cancelled their scheduled Invictus Games fundraiser.
In a letter sent to Invictus, an attorney representing the Markle-Hewitts said the cancellation was due to a conflict with another streaming service. (Translated; They signed with Netflix and Invictus is with Amazon.) A sycophant for the Markle-Hewitts claimed the cancellation was due to Covid-19.
In short; they got the big bucks and the wounded soldiers got dick. Bravo, you pussy whipped, formally royal cunt.
However, there's more:
In a statement issued today Mr. Markle-Hewitt announced he was making a "donation" to the Sovereign Grant. Another sycophant went on to say:
"This contribution as originally offered by Prince Harry has fully covered the necessary renovation costs of Frogmore Cottage, a property of Her Majesty the Queen, and will remain the UK residence of the Duke and his family."
(How many things can you find wrong with that statement?)
Furthermore, a "well placed source" told the Mail:
"Harry made very clear from the start that he wanted to repay that money because he felt that if he handed it back then no-one would have the right to control him."
So, Mr. Markle-Hewitt. You sold out your country. You sold out your family. You sold out your heritage. You sold out the public's trust. And you sold out the wounded soldiers. Well fucking done indeed! You've proved, beyond any shadow of a doubt, that no-one, except Mrs. Markle-Hewitt, controls you.
Clueless, halfwit cunt and his manipulative, halfbreed, cunt wife. They'll fit right in with Phonywood's SJW parasites.
(Sources and quotes taken from The Daily Mail.com, PageSix, Vanity Fair, and Town and Country.)