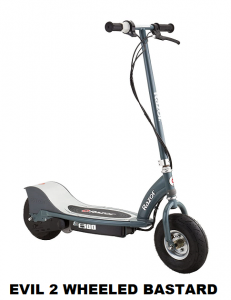 Sadly we're all too familiar with that breed of wanker known as Cycle Cunt. You see them everywhere, racing along pavements and streets with blatant disregard for the Highway Code, or even basic civility.
Unfortunately Cycle Cunts are now being aided and abetted by a new form of two-wheeled tosspot. You've probably noticed him infesting the highways and byways of our fair land in increasing numbers of late. Let's dub him (or her, or them, or it; we wouldn't want to discriminate) Electric Scooter Cunt.
Earlier today the wife was driving us sedately along the main drag when one these twats shot straight out of a narrow side street literally feet in front of us. The missus just about stood the car on end, causing agonising pain to shoot through my dodgy back as a consequence. The lout absolutely tore across the road (fucking hell, I didn't realise that these things could travel so fast!) and shot off down the opposite street, but not before he had the time to glance back and give us that arrogant sneer so beloved of anti-social cunts everywhere.
I take it the deal with these scooters is the same as with their two-wheeled relative? No instruction or test required by the user, no tax, no licence, no helmet , no lights, oh, and no regard for anyone else out and about, in to order to be a fully qualified Electric Scooter Cunt.
I'm reminded of the classic Monty Python sketch about there being 'just too many Whickers'. If they were making that today, it would have to be 'just too many cunts on two wheels'.
Nominated by: Ron Knee