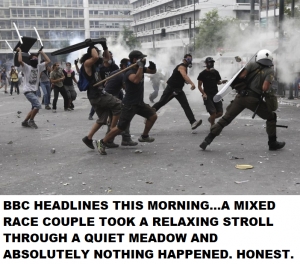 The BBC.
A quickie. I'm sick and tired of the cunts constantly referring to rioters as 'anti-racist protestors'. Just two examples here, but there are others.
https://www.bbc.com/news/world-us-canada-53542504
https://www.bbc.com/news/uk-england-london-52954899
Yes, it seems the cops are the bad guys when a bunch of criminals, racists and Marxists take over the streets. How dare they try to restore law and order. After all, if you say you're anti-racist, then it must be true right?
Sure, they may do the odd black panther leather gloved salute (the glove denotes protecting the black man's hand from injury when beating up white people). They may rant about the Jews controlling the world, but hey…these are anti-racists. They say so, as do the BBC, so let's just accept it.
It seems shouting 'waycism' allows you to be called the good guys by the 'impartial' BBC, even if they do the things I state.
Get to fuck!
Nominated by: Cuntybollocks