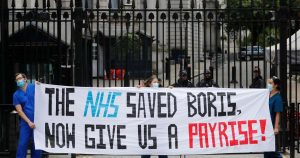 A cunting for Rishi Sunak, who awards judges, civil servants, senior military officers, lazy teachers and knee-taking policemen with a pay rise for their 'contributions' during the Covid pandemic but not nurses, care workers, porters or cleaners who have been on the front line.
It's a kick in the face and shows just how much of that clapping was empty virtue-signalling wank.
More evidence that Tory public spending is an inverted pyramid of more cash to the top and least useful.
Glad I never voted for the cunts.
Nominated by: Cuntamus Prime