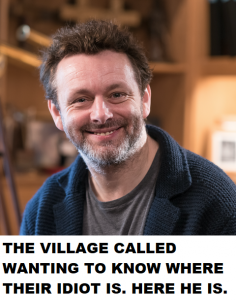 Michael Sheen is a cunt, isn't he?
After receiving a recommendation, I had a quick glance at 'Staged' starring both this oily luvvie and David "eyebrow acting" Tennant. What a shit sandwich of a show. A dreary wankathon between two garrulous dullards. Time I could've spent watching the kettle boil or pulling out my finger nails.
It's not often you watch something starring David fucking Tennant and he's not the most hateful prick in the programme. Sheen is passable doing a Culshaw/Bremner-type impression though stretched out in a film (Clough, Tarrant, Frost) it's a bit thin. Otherwise, watching Sheen is about as enjoyable as eating Welsh Rarebit with extra defecated, runny excrement. His performing seems to involve spasms of wild-eyed over-acting, flashes of his bleached gnashers then leaning back stroking his face whilst gurning.
He once did a 72-hour live Christ Passion melodrama set in a coastal village in hWelsh hWales. It involved dragging a cross up from the beach then walking through town with his grimacing visage smeared in Ketchup. This pointy-faced drip really loves himself.
Naturally he's an anti-Brexit, anti-Trump, woke leftie. Go on Sheen, tell us about your charity work again, you fucking bore.
How does one say "Cunt Off You nauseating mook" in Welsh?
Nominated by: Captain Magnanimous