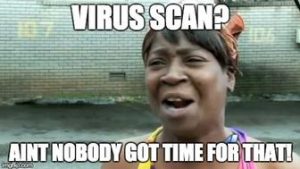 If you're foolish enough to go on websites run by the likes of the Daily Mirror or Daily Mail, you may also be familiar with having to press 'Ctrl+Alt+Delete' whenever you try to navigate their site. Ad blockers? About as much use as a vegetarian restaurant in Wuhan.
Yes, I now ignore any links to most newspaper websites due to the amount of utter shit and spyware they're infested with. You can get videos auto playing, the screen freezing as you try to scroll the page down or indeed, just the plain old frozen screen that can crash your fucking computer.
'We see you're using an adblocker'. Yes, to stop cunts like you shoving spyware onto my computer or just throwing on auto play videos over what I'm trying to read. No, don't make the mistake of turning off your adblocker, just to get access. Not unless you want to see what using a ZX81 to access the internet would be like.
Calling themselves 'news websites' should be a matter for Trading Standards. They're virus, spyware and pop-up advert sites,
Fuck off.
Nominated by: Cuntybollocks