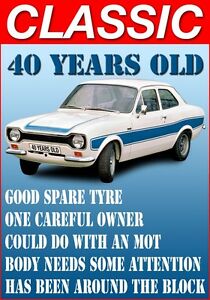 This is a slightly niche cunting, but hopefully understandable.
Growing up in Ian Smith's UDI era Rhodesia, we suffered very badly from sanctions meaning few countries would officially trade with us. But I really wanted a 1600 escort sport, so I traveled down to Pretoria and in February 1979 bought a brand new one all the trimmings and brought it back to Rhodesia.
I still have the car as it was shipped over (fuck knows why as I wasn't allowed anything else). My beef with these enthusiast cunts is that recently I was looking to buy one due to their simple engineering and reliability to replace mine that needs a full rebuild and respray.
Could I find one for less than 10 grand? could I fuck. The reason is overgrown balding man-child types buy them for "customising" and racing round like cunts on dual carriageways. You know the types that go to Aldi for their food because they've spunked their money on a fucking Dixie horn like a 17 year old who's just sniffed his first bag of Gorilla glue, thus depriving the good Captain of an opportunity for a cheap easy to drive motor of which I'm familiar.
Saw a "yooful" kaffir in one the other day, must of sold a lot of dope and "biatchees" to pay for it, cunts to man and beast, "shove you burn outs up you arse" fucking oafs
Nominated by: Captain Quimson