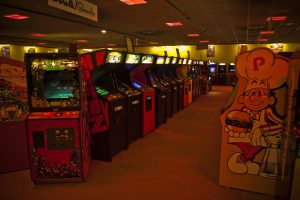 Recent talk hereabouts of seaside resorts has put me in mind of amusement arcades, and the way they have changed for the worse over the years.
When I was a nipper I loved the pinball machines, the penny pushers, and above all, the coin-operated video games. I cut my teeth on such simple fare as Space Invaders and Pac Man before a few years later gorging the gore-hound in me on the bloody mayhem of such games as Operation Wolf.
Now the games are all carnage-free with nary a decapitated communist in sight, the pinballs have been stolen away to the basements of hipster wankers, and the penny pusher has been transported to television where it forms the basis of 'Tipping Point' – a show starring and watched by simpletons, scroungers and scum.
In their place have arrived dancefloor simulators where tosspot Travoltas thrash around like Joey Deacon with a cattle-prod shoved up his cat flap, and claw-grabbers with less grip than Stephen Hawking's wanking hand. And the prizes on offer? Moth-eaten knock-off Spongebob Squarepants dolls where once you could have got your hands on one of those pens that if you turned it upside down, the girl's bikini disappeared!
Okay, maybe arcades were never that good, but oh how the shitey have fallen!

Nominated by: Chimp Licker