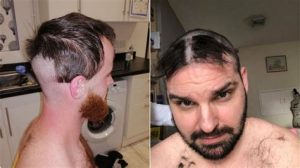 Corona cuts
The media seems to be alive with reports of "guerrilla hairdressers". They come under cover darkness by appointment, do your hair and sneak out under the cover of darkness.
Living next to a nature reserve I get to see a lot of illicit meetings, the druggies going over to score or use, the alkies going for a quick drink and young girls going to meet men friends.
Obviously this drew my attention ( as a concerned citizen). I noticed that they travel in twos and do each others hair, sometimes with interesting results.
Today I was subjected to my first corona cut, how long has it been 3 months?
Well I have a beard trimmer, don't use it much and somehow in the last move it became separated from its charging cable, at this point I imagine that you are rightly thinking "Cunt you brought it on yourself" but no I bought a new one from Amazon, so charging it up over night I let Mrs B loose.
Fucking big mistake I will tell you, I am not sure what happened but she is not very hands on; more "Tony and guy" with the clippers and they fucking ran out of charge! leaving me looking like an extra from "Braveheart" I was not impressed, not only did I have half a hair cut but after 3 months of lock down I had an appointment at the vets to have the dog's anal glands squeezed (my life is great isn't it)
So I had half a hair cut and had to go out!
Was not a happy bunny, The Amazon charger did not work and I ended up taking the house apart trying to find the original charger, which eventually I did in a box of defunct phones and phone chargers.
I have had a truly cunty day, and I had to open the door to a delivery man who kept a straight face.
Nominated by lord benny