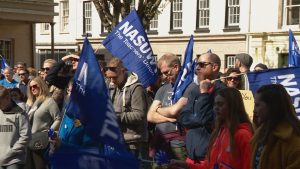 Teachers and the NASUWT in particular.
Mostly sat at home on full pay while NHS, carers, shop workers, dustmen, drivers, posties, food workers, steel workers and a host of others have all soldiered on.
Aided and abetted by Labour councils they are screaming that it is unsafe to return.
Fine. Stop paying the cunts and look to terminating contracts. Perhaps then they wont be looking forward to the long summer holiday and winging about 'the marking, the marking' as one cunt neighbour used to.
Utter parasitical cunts.
Nominated by Cuntstable Cuntbubble