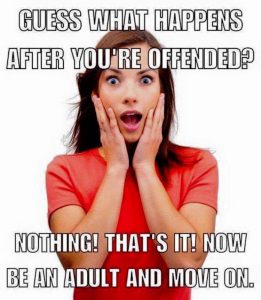 The perpetually offended. And there are many groups of them though as a % of the population they are insignificant. Which seems to be frustrating for them.
Apparently there was some wankfest on the telly- Children in Need perhaps? Not sure but there was some Little Britain stuff on it. You know – I'm a Ladeee, the Wheelchair bit.
Cue the perpetually offended.
Sexist, racist, disablist (is that even a word) and of course, trannie phobic.
Fuck me. Get a life. Have a laugh if it floats your boat. But for fuck's sake can the media and business ignore the pathetic, whining victim status cunts.
Perhaps then they will crawl back under their rock. And fucking stay there. Who knows? Comedy may return.
Nominated by Cuntstable Cuntbubble