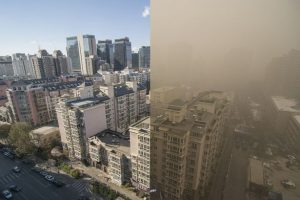 A nom please for the green/eco agenda and COVID-19.
Not a day goes by these day, where I don't see at least three articles in the media (I know, I'm a cunt for looking) showing me before-and-after pictures of the Thames Estuary or some other shithole that normally looks like Willy Wonka's river of liquid chocolate, with the occasional shit-soiled nappy or jizz-filled condom floating past.
Obviously the "before" always looks the underside of Fred West's patio if it had been located in downtown Beirut; whereas the "afters" always show glowing, azure blue tropical waters and golden sands akin to St Maarten.
Now call me cynical, but I think these photos have more to do with the efficiency of Photoshop than the drop in emissions and pollution – and that the eco loons are jumping on the bandwagon of the Chink flu to suggest we should go back to the pre-industrial era. The only trade-off we need to make is the total end of our pre-virus way of life, the collapse of every global economy, no travel or holidays for anyone except the super-rich, and the open-ended curtailment of our hard-won liberties? Sorry, but my V8 is coming out of the garage the minute this shit's over with.
Nomimated by Cuntan the Cuntarian