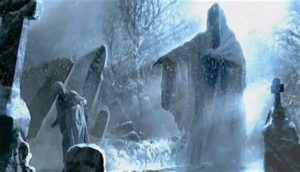 Bad Dreams
Bad dreams are real cunts, especially those where you wake up shaking in a sweat.
I had such a dream the other night, where a ghostly figure appeared at the foot of my bed. In my dream I could speak to it and so I politely asked "who the fuck are you?" "I am the Ghost of Christmas Yet to come" it replied.
Thinking that this all sounded a bit familiar, I asked the cunt if he'd ended up in the wrong play. "No, Blunt, you old cunt. I bring you a message. Come with me and I will take you forward to the Christmas of 2020."
Before I could start regretting having my ninth glass of red that evening, I was whisked away up into the skies and found myself flying over the snow covered landscape of the British Isles. It was still night-time and the roads were deserted, apart from the occasional sighting of a police car or ambulance.
Finally, I arrived on the edge of a large city which I guessed from the large number of minarets towering into the skies must be London. Why had the ghost brought me, a simple Northern lad to the large metropolitan city which I had long ago forsaken as MY capital city? Suddenly, below me, out of the mist appeared a giant makeshift hospital. This must be that Nightingale hospital that people keep banging on abahhht! It was a feverish scene with staff rushing about outside and a fleet of ambulances constantly depositing patients at the doors.
It was now daylight as the ghost deposited me on a typical London street. I found it difficult to read any of the signs as most of them were in Arabic. He pointed out one house and told me that was the house that Tiny Tim Cratchit used to live in.
"What do you mean, used to," I asked? The ghost told me he'd finally succûmbed to the virus. The streets were nearly empty because of self isolation and the very few people that were about were wearing protective face masks. Oh! Wait a minute, fuck, those are yash- masks! "It's going to be a dreary Christmas this year", the ghost said. "All the poultry farms have been closed down because of the spread of bird flu. You can't buy a turkey for love nor money. Eggs are like gold. The only ones in existence are the ones that Moggie's hoarded!
He finally took me to a graveyard and showed me one particular grave which had the appearance of a pauper's grave. On it, it said . . . . .
"Here lies Bertie Blunt. Died London 28th December 2020."
"Hold on a minute," I said. "I didn't ask for my funeral to be held in this God forsaken city!
What can I do to change all this?"
"Nothing, I'm afraid. The second spike has started."
Fortunately, I did awake at this point. However, bad dreams are real cunts and
can leave you shit scared!
?
Nominated by Bertie Blunt Tory Cunt