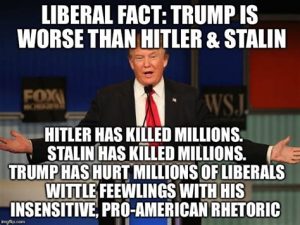 Trump Derangement Syndrome (TDS) and Chloroquinine
First of all, let me caveat this nomination by saying that I'm not a huge fan of Trumpy. I find him to be insecure, arrogant and rude. However, he's a much better choice than Hilary fucking Clinton or Bernie 'Wolfie Smith' Sanders. And the fact that he winds up the snowflakes can raise a chuckle now and again.
This nomination is more about libtards, fueled by the MSM, and their eagerness to dispute claims as to the effectiveness of using Chloroquinine, an old antimalarial drug from years gone by, in treating the coronavirus.
This is because scientists, correctly, have said that there is no proof that the drug, championed by Trumpy in a press briefing, is effective in treating the virus.
This does not mean that it doesn't work though! Small scale tests by a French professor on human subjects showed that the drug did help. Quite substantially. It has also killed the virus in lab tests.
Trumpy, via scientists by the way, has only said that the drug should be used until a vaccine is produced. Because it's the best hope you've got for now.
However, the BBC and libtards, in their eagerness to discredit Trumpy, want us to take paracetamol instead. Paracetamol may reduce your fever, but it will not help with the virus. Perhaps, when large scale tests are done and analysed, we'll see that the drug doesn't help. Who knows? But the test data we have, however limited, is promising.
I know that if I started with coronavirus symptoms, I'd want the drug over paracetamol, without a doubt. It has nasty side effects for some (which is why it isn't really used nowadays for malaria), but if it works, who cares?
Sadly, you probably won't get it, as many within the media and even, sadly, the medical profession itself, want to discredit the drug's use out of a pig-headed desire to not make Trump look like he was right on something.
In essence, they'd rather kill themselves and all human life than to give the orange chap some credit. I've noticed the smug attitudes coming from libtards over the 'news' that a scientist or two has said that there is no proof the drug works.
We know that, dickheads! They're just saying more tests are needed. As are the scientists advising Trump. But they do know that limited data (on human subjects) shows that it works in reducing the length of time you have the virus. Fact.
It will not be the answer, nobody, not even Trumpy, is suggesting that. That will be the vaccine or the virus mutating into something less deadly. Or immunity after a lot of death. It's just the best thing we've got until then alongside the care given in hospital.
Put it this way, if you're feeling like you've lost your sense of smell and are running a fever and start coughing…would you want to be given paracetamol or, 'This drug that has killed the virus in a Petri dish and got rid of the virus in human subjects much quicker than those that didn't take it, but hey…we need a larger cohort than 20 something to prove it really works')? Take your pick.
By the way, don't take it yourself. It can be deadly in the wrong dosage. We need doctors to administer it (you need to take more than for malaria) unless you really know what you're doing. A few numpties overdosing on the drug by self administering has added fuel to the libtards' fires. If that's the case, let's ban all drugs!
Paracetamol or Chloroquinine?
I know which one I'd take my chances on.
But don't hold your breath waiting for some… because 'orange man bad'.
Cheers BBC and pig headed libtards. It seems that your Trump Derangement Syndrome (TDS) might kill us all!
https://www.connexionfrance.com/French-news/French-researcher-in-Marseille-posts-successful-Covid-19-coronavirus-drug-trial-results
https://www.hospitalresearch.com.au/news/latest-stories/why-a-malaria-drug-shows-promise-for-coronavirus
Nominated by Cuntybollocks