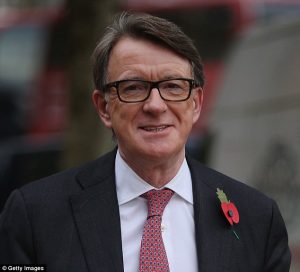 PETER MANDELSON:
It has been a long time since the queen of New Labour, Anthony Blair's first lady and champion rimmer of Hartlepool has had a nomination all to himself. The oily fuckwit is usually to be found fisting any money-making opportunity he finds, however questionable, tacky or unpatriotic it is, and the current pandemic is no exception:
https://www.dailymail.co.uk/news/article-8233229/China-advisers-investigated-amid-fears-Beijing-using-Covid-commercial-benefit.html
What a surprise – the self obsessed, money-grubbing old turd-burglar "advises" Chinese companies (therefore the communist Chinese government) how to take advantage of our current plight by taking over British companies, and gaining their knowledge and research on the cheap.
This oleaginous, quivering pile of human excrement has no talent to make money by his own hands – his only talent is to crawl, fawn and give bum sex to the rich and powerful.
Time to take this worn-out old poofter to a Chinese wet market, before Kweer Charmer finds him a job from the public purse as his toilet slave, a role Mandy would be, in all honesty, one he would excel at.
Nominated by W. C. Boggs