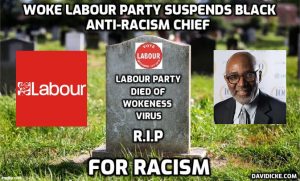 They cant fucking help themselves, can they?
They have suspended Trevor Phillips, who has accused them of toxic anti-Semitism, for Islamophobia. And what was this Islamophobia?
Mr Phillips has been suspended pending investigation over remarks, including expressing concerns about Pakistani Muslim men sexually abusing children in northern British towns…..For comments about the failure of some Muslims to wear poppies for Remembrance Sunday and for sympathy shown by some in an opinion poll towards the "motives" of the Charlie Hebdo attackers.
These are reasonable, mainstream views, so once again the woke, right-on Labour party has distanced itself even further from the people who might vote for it. And, in a deft piece of virtuosity it is recognising trannies as some sort of super victims, so that it can alienate the Muslims that this bullshit seeks to ingratiate it with.
Clement Attlee is revolving in his grave.
Nominated by Cuntstable Cuntbubble