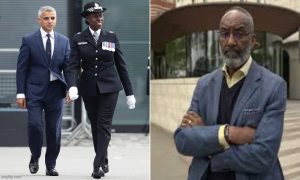 A senior police officer, Supt. Novlett Robyn Williams, has just been sacked because she was in possession of a child abuse video which for some fucking reason I've not heard, was sent to her by her sister, as well as to seventeen other cunts on WhatsApp. The hearing accepted there wasn't a sexual motive to Williams possessing the video, but that she knew she had it and so has been fired and put on the register.
Perhaps a bigger cunt in this story though is former chair of the Black Police Association and Met Supt. Leroy Logan. This fucking prick is defending this woman's right to posses child abuse images and keep her job calling it 'a tragedy'. The shite coming from this cunt's mouth along the lines of, 'This will harm the black communities faith in the police' and make it harder to recruit BAMEs…and get this: 'It hasn't happened to a white officer, but if it did, they'd probably get let off – the police are racist'.
Williams is being described as highly decorated, but the only thing I can see that she's achieved in policing is comforting victims of Grenfell – glittering career! The cunt Leroy Logan seems to think black people only care about law enforcement being the same colour as them, rather than actually arresting cunts, which I doubt Williams has done much of in 30+ years and not breaking the fucking law by doing such a thing as, oh, I don't know, having videos of kids being raped? You can see Logan on Piers Morgan defending the Met's suspension of white police officers for crashing their car while racing to an Islamic terror incident – funny that.
https://www.voice-online.co.uk/news/uk-news/2020/03/13/total-tragedy-met-police-sack-senior-black-female-officer/
Nominated by Vengeance is Mine Saith Shagga