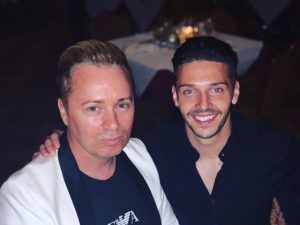 Oh, what a gay day for a limp-wristed cunting of Barrie Drewitt-Barlow.
This effete, Qweer Charmer lookalike with the Tintin hair made some sort of perverted history in 1999, when he and his "hubby" had twins. Those little bundles of misery have grown up now and his "daughter" took unto herself a boyfriend. It now appears the 25-year old "boyfriend" has taken up with camp daddy, and they are expecting triplets:
https://www.thesun.co.uk/fabulous/11126628/britain-first-gay-dad-triplets-daughter-ex/
I feel sorry for the poor little bastards since "Barrie" (he clearly spells "ducky" as "duckie") and his partners have now managed to fuck up five new lives.
It begs the question, how much of the bill are we picking up to gratify the perversions of these two ageing queens?
Probably none actually. This cunt and his ex-partner are millionaires. This is a self-funded, 'buy-a-baby' thing, a la Dame Elton John and his ball and chain.
Nominated by W. C. Boggs