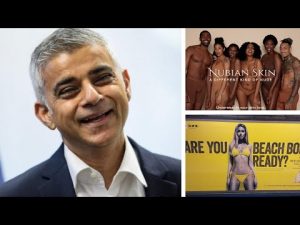 Sadiq Khan again, this time for awarding £500,000 worth of free advertising on the London Underground to hosiery brand, 'Nubian Skin'. Free advertising eh, so who's paying for it?
The brand's 'A different kind of nude' campaign was unveiled by the mayor as the winner of a Transport for London competition to promote diversity in advertising. The adverts, to be displayed in prominent positions across the tube network, feature black men and women in nude-toned underwear. Rank hypocrisy from this cunt since one of his first moves as mayor was to ban Protein World's, 'beach body ready' adverts, which featured a fitness model in a bikini. At the time, Khan said: "As the father of two teenage girls, I'm extremely concerned about this kind of advertising, which can demean people, particularly women, and make them ashamed of their bodies". Not quite so concerned though, when it's advertising 'Nubian Skin'.
Most of the poor fuckers who have to endure the London underground might wonder why this particular underwear advert is seen as ok, whilst others are banned.
Khan, you are a waste of space. Thankfully, I left Londonistan years ago, whilst Ken Livingscum was Mayor, but still hope to see this cunt deposed in the Mayoral election this year.
Nominated by Mystic Maven
Another nomination for that waste of space, Sadiq Khan, this time for going on a trip to Brussels in an attempt to get special separate EU citizenship for Londoners who are 'heartbroken' about Brexit.
Glad that there's so little crime in our once great capital, that this imbecile can ignore his actual job and instead spend taxpayers money on this latest stunt, the cunt.
Nominated by Mystic Maven
Violent/knife crimes are sky high here in Londonistan, Transport for London has a shit load of debt, homelessness is as rife as it ever was here, he was given billions over four years in 2018 towards a programme to build new 'affordable' (LOL….snigger, snigger) homes in the Capital – over 100,000 by 2022, supposedly – and has only STARTED less than 40,000 so far….and the list goes on and on, so what does this dwarf cunt see fit to do?
Fuck off on a jolly to Brussels to tongue up the arsehole of the likes of Gollum….oops sorry, I meant Verhofstadt and his like, to beg for 'associate citizenship' for Britons (but what he means is LONDONERS) who wanted to remain in the EU and are sobbing into their protein shake and avocado on toast. What could possibly be more pressing an issue than this??
The man is a putrid, crawling, cynical, calculated turd of epic proportions. The London Mayoral election occurs in May, so clearly he has an agenda here and wants to please the cunt Londoners who voted in an almost 60% majority to leave. Not only is he sucking up the EU's poo passage, but also prospective voters to retain his position as Mayor.
What an obsequious little cock he is. His Napoleon complex is out of control.
Nominated by Nurse Cunty