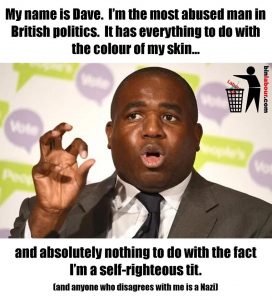 With depressing inevitability, I find myself having to nominate David Lammy MP (Moronic Pussy). It's beginning to seem like Lammy is putting himself forward, along with Lily Allen, for the title of "Cunt of the Year". And it's still only February. We've just had a very minor scandal about Jamaican criminals being deported back to Jamaica. And we're not talking weed sellers here, we're talking real scum. Burglars, rapists, car thieves, murderers. They're now back in the land of their birth, and, happily the problem of the Jamaican authorities.
Of course, to brain dead puddle drinkers like Lammy, these scum sucking pigs were not returned to their homeland because of the crimes they committed. No no no. They were deported because they were black. Lammy doesn't care that this filth could not show the country in they chose to make a home, or its people, any respect. He doesn't care that one of those sacks of shit savagely beat a woman to death in front of her six year old son. That's irrelevant to him. All of those scum were black, and to Lammy, that means only one thing…WWAAYYCCIISSTT!!!
Yes, Priti Patel had these savages deported to their country of origin not because they were persistent criminals who committed some very serious crimes, but because she, and the rest of Her Majesty's government are racist. Give…me…a…fucking…break. In truth though, there is racism at work here. Not from the government, they actually did their for once. The racism comes from Lammy. Yes, that's right. David Lammy is racist. There, I've said it. Lammy hates anyone who isn't black, especially white people. This time though, he's excelled himself. In his obsession to accuse others of not liking black people, he has callously pushed the victims of the criminals he's protecting, way off into the long grass. What an absolute cunt he is.
Let me make this clear. Mass immigration is a massive problem. And I say that as someone who is half English and half American, and who came here at the age of nine. Unlike many other immigrants though, I've never broken the law, I've paid my dues, I've even served the UK. I love the UK, and it's people. Most of them anyway. But the simple problem is, there are now too many people on this island. Worse still, there are too many people here who don't work for a living and pay into the system. Thanks to idiot left wingers, there are far too many people here who not have no respect for the UK and its people, but they outright despise us. We certainly have too many foreign criminals. And in my opinion, we have the absolute right to deport them if they don't behave.
Despite what that cretin Lammy, and his fellow lefties thinks, protecting decent, honest, law-abiding, tax paying citizens is of the utmost importance. The right of such people, be they born or naturalized citizens, to live with fear of becoming victims of crime takes precedence over the rights of criminals. And if you're a foreign criminal who can't behave in this country, regardless of your race, we have the absolute right to expect that you will kicked out. That is not racist, it's common sense.
Nominated by Quick Draw McGraw
( I reviewed the title and upped the figure, and it is 7 title cuntings although he shares quite a few nominations )