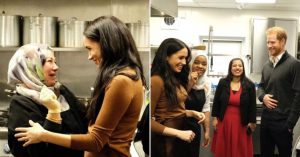 Celebrity cunts for Grenfell…just a short virgin cunting.
If the victims of the Grenfell fire had been all WHITE native British people would Lily the cunt Allen have wasted £5 on Boots eye drops to fake tears? If the dead were all old white, cockney pensioners would Smeg the cunt Markle have swanned in fawning over the victims' relatives? No, of course they wouldn't.
Whilst Grenfell was a horrific accident, the fact remains that sometimes shit happens, but the constant tide of celebs and nothing-burgers still clammering to be seen hugging distant relatives of the deceased is just sickening. It's nothing but attention seeking, a public opportunity to promote some more pointless mouth breathers like Jeremy Clarkson's daughter and that wannabe, arse-shagged Brooklyn Beckham. These vile cunts appear to look in their diaries and suddenly realise "SHIT! It's been a year and we haven't done the Grenfell tour yet", then quickly phone their agents to arrange a well publicised visit to hug some immigrant off the street.
The latest puke fest of Smeg and Ginger pubes secret (my arse) visit to hug a fucking headscarf, really got my goat. That fucking Smeg flew from Canada, wasting jet fuel again, to promote itself as a black solidarity sister for yet another organised press "diversity" stunt, then fucked off again wasting more jet fuel when it realised it had done a Cameron and forgot its kid. Note also that Smeg made her planned "I'm leaving because you don't ask how I'm doing" announcement to steal the press coverage away from Kate's birthday party, just as she deliberately announced she was up the duff on Eugenie's wedding day, like the well planned little cunt she is.
Didn't see those two cunts at Aberfan with the Queen remembering the 116 white children and 28 white teachers that died there. OH NO, no mileage in grieving for white British kids when you want to promote yourself as the Queen of black hearts.
Well Smeg can fuck right off the planet and take a BOAC plane load of "celebs for Grenfell" with her. Let's be honest, if old Ginger pubes worked in Tesco, he'd still be a trolley boy and still be a virgin so he's no loss to Britain.
Cunting waste of organs all of them.
Nominated by Tinkers Cunt