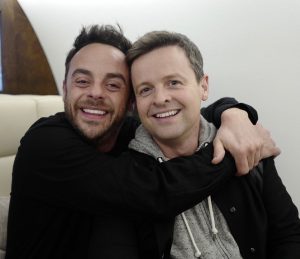 As humankind continues to take its first uncertain steps into the new millennium, it confronts the same huge questions which have perplexed it for thousands of years. Is there a God? What is time? Is there one universe or a multiverse, and are we alone in the vast cosmos? Why is there something, rather than nothing?
However the greatest riddle facing us today is unquestionably what has come to be known in scientific circles as 'The Ant and Dec Problem', to wit; how is it remotely possible that two gurning turnips with no discernible talent whatsoever can continue to make such huge amounts of money? Interest in this incredibly difficult philosophical conundrum has recently been fuelled by the news that ITV is 'keen to keep their most prized assets', amid rumours that the Gruesome Twosome were being wooed by Amazon Prime. ITV is reportedly prepared to offer the Gormless Gobshites an eye-watering £40m, three-year deal to beat off competition.
Now I'm willing to concede that it might be theoretically possible to detect at least some microscopic fragment of talent in Ant and Dec. If it were somehow possible to fire them along the Large Hadron Collider at 99.99999% of the speed of light, the elusive Antandec Talent Boson might finally be persuaded to reveal itself. As Professor Brian Cock puts it, *shit eating grin* 'with my huge fuck-off LHC, I can show thingies that are very, very, very small… so tiny in fact that they can't be seen with the naked eye, even with a magnifying glass'. Given however that such an option is beyond the current bounds of technological capability, the reality of the ATB remains purely speculative. To all intents and purposes therefore, for the forseeable future Ant and Dec will continue to trouser eye-watering amounts of wonga in return for demonstrating the thin end of the square root of fuck all in the way of talent.
I'll allow the great chicklit authoress Jane Austen to have the final word on the subject, as she sums the matter up far more eloquently than I can: 'it is a truth universally acknowledged that a couple of fuckwits in possession of no ability whatsoever must be in want of some talent'.
So far Ant and Dec themselves have been unavailable for comment, a spokesperson indicating that 'they're too busy pissing themselves laughing, all the way to the bank'.
Nominated by Ron Knee