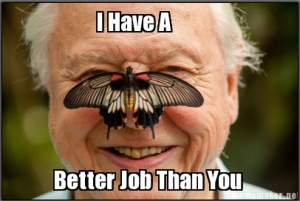 A nom please for David Attenborough. Now I've always respected the grand old duckie of the natural history world, but lately I've noticed his ever-increasing cuntitude for three reasons. In ascending order these are:
1) Every nature documentary now seems to feature a bombastic orchestral score, twice as loud as the commentary, which would be more at home as something Hans Zimmer would have scored for the climax of an '80s action film where two 100,000-strong hordes of grizzled Viking warriors fight to the death at the gates of Valhalla; do we really need it when watching two inch-long beetles having the equivalent of a pissed-up slap-fight outside the club at 2am over the last piece of chubby worn-out beetle snatch?
2) The cuntish "making-of" bits added on at the end of every show to pad the running time. I don't give a fuck how Jonty the cameraman suffered so while taking his £250,000 camera that we bought for him on an all-expenses paid jaunt to Africa on our dollar. These are the equivalent of DVD extras – difference being those are separate to the film, you know why Dave? Cos NO CUNT WATCHES THEM.
3) The ever-increasing preachiness. Every other line is "going extinct this, deforestation that, global warming the other"; it's just one massive guilt trip aimed at the viewer, the agenda being you – white Westerner = BAD, indigenous dark keys who haven't advanced past the Bronze age yet = GOOD. Tell you what, the day you sign over all your millions to one of these causes you can start lecturing me.
Nominated by Cuntan the Cuntarian