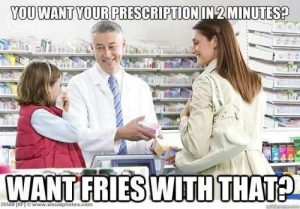 I'm cunting pharmacies.
Why the fuck does it take 20 minutes to get your prescription ready? Go in the doctor's surgery and the cunts can't wait to kick you out, their robotic diagnoses being churned out 19 to the fucking dozen while their eyes glaze over. "Here's your generic prescription, Mr Nesbitt."
Get into the fucking pharmacy and there's about five or six pharmacy assistants doing fuck all, just wandering around like thick cunts with no purpose in life. Even when you are the only customer in the joint it still takes fucking ages to get your drugs. How fucking difficult is it to take some pills off the shelf and put them in a bag? I've got better things to be doing, like watching the women's beach volleyball with a box of spunk rags at the ready.
And the places reek of piss and biscuits.
Fuck off.
Nominated by Gash Nesbitt