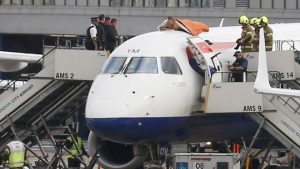 James Brown is a cunt.
No, not Mr Sex Machine himself, but James Brown, the partially sighted Paralympic cyclist. This is the Cunt who managed to climb on top of a plane bound for Amsterdam in the city of London airport. This myopic mick, who got kicked out of the last raspberry olympics for being a drug cheat, managed to clamber on top of a flight he had booked a seat on, and superglued his hand to the fuselage, thus preventing it from taking off. The airport had been under siege by those protesting pricks, so you think they might have been a bit more alert, but were outfoxed by this fucking bellend. As usual, the cops go in with a softly softly approach, making sure he's ok, and giving him a blanket to keep him nice and toasty, while the cunt live streamed his protest. It's the last bit which gets me.
These fucking cunts are more about the notoriety and likes they will get than any effect their pathetic protest has. He should have been shoved of the top by smashing him repeatedly with rifle butts, then his semi conscious carcass should have been dragged through the terminal, and dumped on those smelly vegan cunts doing the sit in.
Nominated by Gutstick Japseye