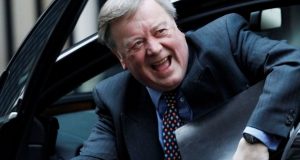 An at death's door cunting for aging Tory MP and EU lover Ken Clarke.
This old doddering twat was quietly shuffling off in to the ether, until teeth and tits leader of the liberal undemocrats Jo Swinson name dropped him as a potential caretaker PM, based only on the facts that he's a remainer and he's old (sorry experienced*). Droopy face Clarke had three times been knocked back in his attempts to be PM in the past, mainly because of his love affair with the EU.
Desperately trying to take this slither of possibility that he might be relevant again, he's now been on every media outlet there is, quite inconsistently telling the public how he's going to "sort brexit out". Clearly he's not exactly sure how though, as he admitted he doesn't actually know what's going on at the moment, as he hasn't been in any meetings with anyone important for some time.
Like all other remainers, there's no actual plan, apart from inevitably stopping brexit altogether. Even though Swinson is adamant her stance is to destroy brexit, her aging recommendation says he will seek an extension to the brexit deadline to allow more negotiation time. I think he's just picked up the Theresa May handbook on how to deceive the public and opened the bookmarked page.
Ken Clarke, fuck off, there's a reason you never legitimately became leader, you're a cunt yes, but the wrong kind of cunt. You might as well jump ship to the limp dums now, Swinson might even let you fuck her as a reward for being a wanker.

Nominated by elboobio
Christ on a bike – just when you thought Westminster politics couldn't get more fucking ridiculous along comes Ken Clarke to prove you wrong.
Apparently our Ken has graciously agreed to allow himself to be shoe horned into the top job in what amounts to a Coup d'Etat orchestrated by Magic Grandpa, Swinney the Loon and a bunch of Tory traitors.
Two questions come to mind…
1. Isn't this called "treason"?
2. Why are these cunts still allowed to take the Tory whip?
Just asking…
Nominated by Dioclese.