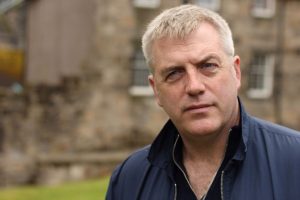 Investigative journalist and "self-proclaimed" criminologist. His older brother Darragh is also an investigative journalist.
Donal is behind such riveting documentary mouth-watering fucking treats as MacIntyre Undercover, MacIntyre Investigates, MacIntyre's Underworld, Britains Toughest Towns, MacIntyre, Edge of Existence, CCTV Cities, A Very British Gangster, When News Goes Horribly Wrong, Donal MacIntyre's Murder Files.
Predictably jumped on the Madeline McCann bandwagon by travelling to Praia da Luz to investigate saying he knows how Madeleine McCann was taken, was abducted by at least two kidnappers who must have carried out several dry runs in the days leading up to her disappearance. Kate and Gerry predictably agreed with his and anyone else's findings that absolves themselves from her disappearance.
Donal (silly name) has never solved any real crimes, brings little to the party and makes no fucking difference or definitive clarity to any outcome of the investigations he has made on a number of well noted 'cold cases', for which the police have never been able to reach a conclusion. But there again an investigative journalist doesn't have to. Just a bottom feeder who for money likes to hang about with real detectives.
The risks of sometimes going undercover have meant that MacIntyre has increasingly turned to presenting on films where his colleagues have undertaken the undercover work, but he still gets most of the money.
Has subsequently appeared on such illustrious programmes as (very aptly) Richard and Judy, Pointless Celebrities, Loose Women, All Star Family Fortunes, Come Dine with Me, Cash in The Attic.
And whilst Dancing on Ice, Donal MacIntyre is seen to be wearing fake tan — and he's not ashamed to say so. "You have to get a spray tan, otherwise you will look anaemic and blue under the lights," he explains. The investigative TV journalist has, in his own words, swapped "semtex for sequins" and strapped on his skates for Dancing on Ice.
Personally speaking, I have always very much disliked the irritating and highly annoying thick, gormless looking Irish turd, his uninteresting boring presentational "skills" and his sensationalising of low life scumbags as a way of earning him a crust and his hoping to making himself rich and famous.
Some other pertinent views regarding Donal:
Anybody else want to knock the fuck out of the cunt then throw him in the canal?
Donal MacIntyre's wife ' You lying cheating scumbag!' When I found his sex texts, it broke me … I had to expose him. He still angrily denies misbehaving and says she has simply misunderstood a series of unpleasantly lurid text messages found on his phone.
"MacIntyre allowed himself to be associated with this programme and cost most of the money. That makes him a fake and a charlatan. This individual has no journalistic credibility. He's a fraud. This programme casts doubt on all the work he did in Britain which, up to now, I believed was credible. After watching the TV3 offering, I have no confidence in anything else he did. The man has no substance and should not be taken seriously".
"According to Donal MacIntyre's website", he's an investigative journalist, specialising in hard hitting investigations, undercover operations and television exposes. He has won praise for his courage, and campaigning zeal particularly his consistent work in the area of care homes for the elderly and the learning disabled. "Going on the evidence of what we saw tonight, this is nonsense. Donal Macintyre is a joke and nothing more than a lazy, cynical excuse for a journalist".
"Donal McIntyre is a self-aggrandizing bastard in my opinion".
Couldn't agree more. I rest my case.
Nominated by willie stroker