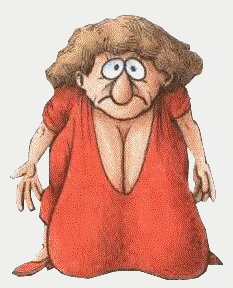 Badly Fitting Bras
I find myself in an unusual situation, inasmuch as I'm making a cunting on behalf of a third party; to wit, the wife.
It goes back to this morning. I'm lying in bed, drinking my coffee. The wife's just got out of the shower, and is back in the bedroom, muttering and fidgeting as she gets dressed.
Me; 'what's wrong, dear?'
Her; 'this bloody bra's what's wrong. In fact, it's every bloody bra. These days I can't find one which fits without nipping and pinching'
Me; 'well you know my absolute stipulation in this regard. Your underwear must be silky and extremely scanty and revealing, my sweet. Beyond that, I'm not sure what practical advice I can offer you'
Her; (fiddling with strap) 'you're about as much use as a chocolate fireguard. It's all right for you taking the micky, you don't have to wear this stuff'
Me; 'I will if it would make you happy, my sweet. Anyway, I know just what you're going through, after wearing that Chippendales' posing pouch you got me that Christmas'
Her; (pouts) 'posing pouch? What are you on about? It's all just a big joke to you, isn't it?'
Me; 'on the contrary, my petal, sniffing your skimpies is one of the few things that gives meaning to my otherwise bleakly nihilistic existence, so I take your underwear well-being extremely seriously. By the way, you look amazing in it. For a woman of your age'
Her; (sticks tongue out) 'you cheeky sod. But I suppose I don't look too bad at that' (sways in front of mirror, hands on hips)
Me; 'you're every man's fantasy, my little butterfly; my ultimate milf'
Her; (girlish giggle) 'you're a lost cause!'
Me; (ostentatious leer) 'but you lap it up. Tell you what, dear. Go to Ann Summers. My treat. In fact I'll come with you and, er, assist in the changing room'
Her; 'my mother was right about you. I should've taken you to the vet and had you seen to. But it's not funny. I'm fed up with these M and S bras. They're a pain. For two pins, I'd go on to that "Is A Cunt" and give them a right bollocking'
Me; 'you'd better go or you'll be late. I'll do it for you and it'll get it off your chest, no pun intended. You can read it when you come back from the hairdressers'
So here it is, a cunting for all ill fitting bras (Marks and Sparks and otherwise) on behalf of the wife, and indeed, on behalf of women everywhere who are beset with the same problem. Ladies, know that your menfolk give you 100% support, even if your bra doesn't.
Nominated by Ron Knee