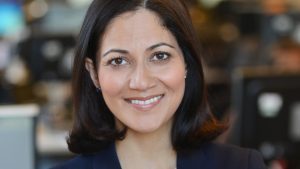 Mishal Husain on Radio 4's Today programme needs a cunting.
First, the elephant in the room. Mishal is fucking gorgeous and on my list of 'to do' women.
Outside of that she's a pc obsessed cunt, forever butting in on interviewees with pc inspired " what about" questions, riding roughshod ( phwoar!) over those with whom she disagrees ( Brexiteers, the Israeli ambassador) and giving a soft ride to those she agrees with (Libtards, Peacefuls and apologists for Hamas and Palestinian terrorists). She asks leading questions all the time and is frankly a disgraceful journalist.
Good for Jacob Rees-Mogg when he gave her and the BBC an on air cunting recently.
Nominated by Marvellous Mechanical Cunting Machine