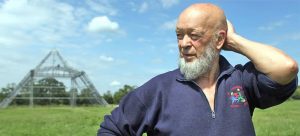 Michael Eavis is a cunt, isn't he?
Ahh it's Glastonbury time of year. Cough up a mountain of money for much discomfort in a muddy, ill-organised event to listen to bland has-beens and Remoaner comedy while the greedy cunt with his head on upside down collects your cash. Peace, brother.
This is the cunt who admitted allowing human waste to pollute the land on which the festival is held in 2014. But he doesn't give a shit about the effluence. "Oo-ah, as long as Oi makes tons of wonga" seems to be the mantra.
Glastonbury Festival is a highly polluting event totally dependent on the fossil fuel industry, pouring sewage into local watercourses, and brainwashing the festival-goers with safe music and kumbaya politics.
I wonder whether this money-grubbing bumpkin will hire hundreds of workers from across Europe on zero hours contracts and then fire them after just two days? You know, like he did at the previous Glastonbury in 2017. Embarrassingly, this was a week after Jeremy Corbyn's appearance at the festival hugging Farmer Cunty and receiving rapturous applause for saying people need not "accept low wages and insecurity as just part of life". Oo-aar, the irony!
Up to 600 workers were understood to have been laid off:-
https://www.independent.co.uk/arts-entertainment/music/news/hundreds-of-european-workers-fired-two-days-into-glastonbury-clean-up-a7818571.html?amp
Peace, brothers.
Furthermore, I doubt there was much chin-wagging; Corbyn would've wagged his Steptoe chin about Land Tax and turnip-muncher; Eavis would've wagged his Gary Glitter bearded chin back that Glastonbury wouldn't exist if Steptoe were in charge. Oo-aar, the hypocrisy.
Typical farmer cunt, Eavis is a money-obsessed hypocrite masquerading as a hippy but frothing over every penny. He's closer to the rats that swarm his mudshite festival. If the Dairy profits fail this year, be sure to get the whole shotgun barrel in your gammon-stinking mouth Eavis, you bearded, piece of shit pîkey.
Nominated by Captain Magnanimous