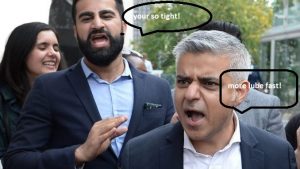 Another cunting for Sadiq Khan, I'm afraid. Not content with trying to embarrass the entire country with his snipes against Trumpty dumpty during his visit in the week, he is now giving it the big 'un over some Eid bollocks event being held in Trafalgar Square.
1. Insulting our oldest and closest ally and attempting to drive a wedge between us seems like an act of treason, to me.
2. Holding a muslim religious festival in a place like Trafalgar Square seems to me like a deliberate act of provocation. A sort of 'Stitch *that*, you cunt'.
I would welcome you cunts thoughts on the points raised here. I am a proud exiled Londoner and that short arsed big nosed cunt will never speak for me.
Nominated by Mecha-rigsby