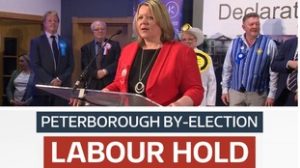 Peterborough.
This by election was a chance to tell the establishment to wholeheartedly get fucked. Fiona Onaspeedway was fucked off for being a lying cow and Peterborough who had always been a Tory stronghold had the chance to vote in the brexit parties first MP, so we can maybe have brexit ……… Maybe.
But no they fucked it all up, and somehow what was a Tory shoe in, has become a Corbyn lefty wank fest. First off only 45% bothered to turn up and vote so people obviously don't give a fuck, and maybe people were protesting, wiping their arse with ballot papers and what not, but unfortunately protest votes don't do anything, other than let the dickheads win. The one silver lining is we can all be 'that cunt' just like the BBC and if we add up all the votes for the leave parties and compare that to the remain. They would have won with 51%. Notice how the BBC subtly left that out of their reporting of the result.
Either way regardless of the brexit party not winning, I can see why people wouldn't necessarily think they're up for the big job as they only have one policy so far, it's the fact that Peterborough have swung from the shambles of May's party to the hell on earth of Corbyn's hug a terrorist party. If this is a sign for what's to come in a general election we're all fucked.
Nominated by elboobio