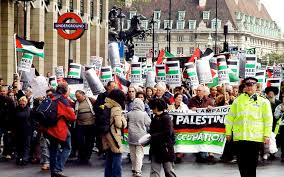 Violent lefties.
Palestine Solidarity Campaign and the good old plastic skinheads the antifarts.
These fucking cowards should have the motto "only in a crowd"
The latest action, as reported in the Daily Snail, is the PSC violently intimidating Jewish shop owners, with one daft cunt even commending old Adolf the Bastard himself.
These utter cunts make my blood boil. I'm not Jewish, but I know some Jewish business owners, and what Israel does or doesn't do isn't their fucking fault. The ones I know are generally savvy business men that buy and sell what sells and makes them a few quid, paying their fair dues in tax along the way and giving an eye watering amount of their profits away to charities (and not the popular ones with their expensive offices in London and millionaire trustees, but local hospices and individuals who have had a shit start and gone off the rails. Regardless of religeous or other affiliations).
But it's ok for these cunts to get violent and more worryingly than that, it now appears to be ok to be violent towards Jews.
Night of the long knives???
I wonder if Channel 4's holy-jokes will compiment its far right anti Islamist gang with a far left anti Semitic one to balance out its indoctination of the youth? I thought not! Utter lopsided cunts!
These far left bully boys need a lesson in history and fast. I suggest the World at War series whilst strapped to a Clockwork Orange desk chair with their eyeballs exposed and all 16 or so episodes with no eye drops.
I bet they all drive Audis and fucking VWs too the cunts. No doubt a VW van that looks like it's been pimped with a gift card from Halfords.
Nominated by Blimpo