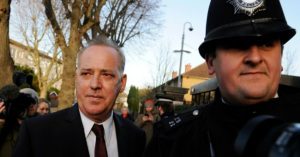 :
A Strike It Ducky, poolside with optional recreational drugs cunting please for ageing former queen of low rent TV, Michael Barrymore, who is still whining about his lack of success this century:
https://www.dailystar.co.uk/news/latest-news/780717/michael-barrymore-innocent-stuart-lubbock-death-party-piers-morgan-life-stories
Poor Micky – he has lost his *career* which consisted of making brain dead quiz shows for the old ITV network calculated to appeal to old ladies of both sexes who went to the studio in coach parties to clap on cue and eat chocolates and then watch themselves on the telly months later, before ITV became an oasis of non-stop Emmerdale Farm, Coronation Street and Simon Cowell overacting with a heap of cheap amateur talent. Hard luck – a young bloke lost his life, having been assaulted by various of Barrymore's "artistic" friends , after being picked up in a cheap boozer and encouraged to take drugs and drink and take part in their fun and games – Barrymore's wife was used in Barrymore's cynical ploy to persuade his bosses and the public that he was as straight as the next bloke, by being his beard for decades and then got cast off when he realised the public would still accept his cheeky chappy act, iron or not . Like the swimming pool man, she too died a few years later. Two lives in their 30s and 40s lost compared to Barrymore's stinking patronising cheap "career"?
Barrymore still has his health and strength, could presumably still work in cheap concert party entertainments at the end of the pier (the best place for him), and even had his gay secrets never became known (and they were only discovered when the daft piss artist blurted it out in one of his drunken interviews), TV has moved on in twenty years and there is no longer the budgets or the will (or the audience) to make weekly weak comedy quiz shows. Barrymore might as well shed a tear that The Golden Shot and Celebrity Squares and Play Your Cards Right and Take Your Pick all bit the dust decades ago and won't be coming back.
He seems to be another self-entitled luvvie queen who thinks he has the right to be where he wants to be when he wants to be there, despite the fact that public taste changed long ago. The moaning, bloated minimally talented arsehole is waving at a parade that passed him by over twenty years ago. Sad for him, but nobody else.
You are looking your age now Barrymore, your naughty boy persona has been replaced by irritating pensioner moaner, your tired old jokes are even more decrepit than you yourself. Just shut the fuck up. You are yesterday's man, thank goodness.
Nominated by Caught speeding