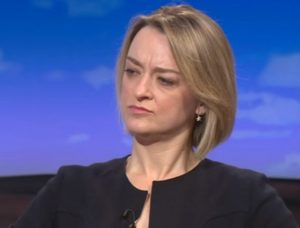 Laura Kuntssberg is a real cunt isnt she?
ALBBC – not content with sticking Abdul on the live hustings and the furor over his deactivated twatter account plus the awful Maitlis woman deliberately attempting to goad Boris into a corner they cant even tell the truth seconds after a live broadcast. The last vote which saw Gove kicked off leaving the PM job to either Boris or creepy Hunt ALBBC went live into the chamber for the announcement. A sigh of disbelief was heard when it was announced one paper was void. The result was then read and handed straight back to the wobbly gobbed Kuntssberg who declared "there was a huge gasp from the MP's when the winners were announced" – no there wasnt you lying conniving cunt.
Why oh why do politicians take people like Kuntssberg and Peston into their confidence when its known the two cunts can't even lie straight in bed? Were that me and I was approached by any ALBBC / ITV / Channel 4 / Sly news correspondents I would ensure it was quiet and just tell them to fuck off.
Nominated by cunto