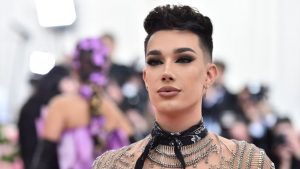 JAMES CHARLES:
Who? you will say. Well he is another of those little pansies who has far too much time on *his*(?) hands and makes You Tube videos, which is apparently an "industry":
https://www.bbc.co.uk/news/newsbeat-48326696
Although the little fairy is still a teenager, he is another example of the narcissistic me-me-me- vanity culture that this country has thrown up in the past few years, the soy-boy, nancified, self-obsessed arsewipes who go round chanting "Love socialism, hate Brexit" and "Our future, our choice", although the sun has to shine through their arseholes. Heaven knows what sort of future there will be if brain dead little wankers like him get a say in it.
Apparently this little iron stands accused of trying to tempt a straight man to the Gayness, according to some woman who he is in competition with.
7 year olds in the playground used to be more grown up.
Nominated by W. C. Boggs