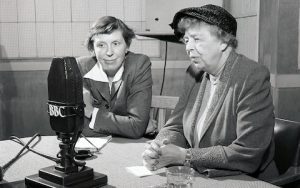 Womans Hour
Ok so I admit it I listen to Radio 4 occasionally in the van as I cannot abide adverts and most of the music is shite these days.
Thing is I keep catching bits of womans hour.
Fine ,let women have their own hour nothing wrong with that but do they have to talk constantly about their tits and fannies ?
Its Vaginal mesh this …..breast cancer that …on and on and on.
Now normally I can listen to talk about fanny all day …but not when its a group of old biddys cackling on about their creamy discharges .
What is wrong with these people?
Mind ; they had Louise Redknapp on the other day so I got ready to knock one out….and guess what! Not a single mention of her tits or fanny . Cunts.
Nominated by A Cunt For All Seasons