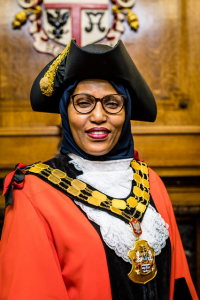 A concise cunting for the London Borough of Islington (where else?) I needn't elaborate on the statement below:
The mayor who wears a hijab
Cllr Rakhia Ismail, the UK's first Somali-born female mayor and is thought to be the first mayor to wear a hijab.
Cllr Ismail was chosen as the new mayor for Islington, north London – a mostly ceremonial role – on 16 May.
Nominated by Cuntstable Cuntbubble
Islington, the home of Corbyn, Flabbott et alia.
Just to prove that the Labour Party can't sink any lower, Islington, the home of the bearded messiah himself, voted against him.
Maybe the cunts ain't such cunts after all, but I ain't putting money on it. They voted for fucking Cable…
Nominated by Dioclese