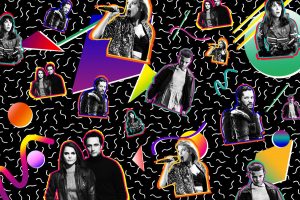 Id like to nominate 80s-obsessed hipsters.
Most of these cunts werent alive in the eighties and although they claim to love 80s pop culture, they only experience it as re-packaged via modern fare such as Stranger Things, Family Guy, Ready Player One or those tiresome geek-pleasing references in films made by pasticheurs such as J.J. Abrams.
They can be found wearing T-Shirts with 'geek' in the typeface ofthe Atari logo or telling everyone how Ferris Bueller is the best teen movie ever made. They've never seen it but some mediocre Hollywood TV writer on Twitter said so.
As a child of the eighties, i can say quite objectively that 90% of eighties pop culture was utter crap. All of this stuff that has been fetished by gimp creatives of my generation who never grew up is embarrassing. Also, if they give you a blank stare at the mention of the Mysterious Cities of Gold, you can openly laugh at their pretensions and shit on their vintage Nintendo.
Fuck off and get your own childhood, you daft cunts.
Nominated by Cuntamus Prime