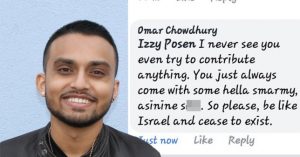 A nomination for Omar Chowdhury. This vile, bigoted piece of filth, who is Bristol SU's new 'BME' officer, has told a Jewish student to "be like Israel and cease to exist" in a hate filled rant.
Chowdhury won the race for the Black and Minority Ethnicity Officer for the coming year on the basis of his manifesto, which includes a "Zero Tolerance on racism" policy.
The arsehole has previously been elected as both Events Officer of the University of Bristol African Caribbean Society and the President of the University's Bangla Society, holding both of these posts this academic year. So does this cunt actually do any work?
Looking forward to seeing him in court facing charges of incitement to racial hatred, and being expelled from the uni. Assuming the CPS will get off its useless arse and do something about the cunt.
Nominated by Mystic Maven