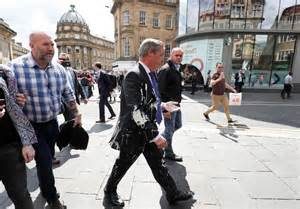 Milkshake throwers are cunts.
I don't know where this pathetic form of protest comes from, but it can fuck right off. Obviously perpetuated by brainless fucks who know nothing of the subject they are protesting about, because if they did, they would be able to articulate themselves as to why the are so opposed to the recipient. No, let's get some easy likes on social media by chucking a child's drink over some cunt. As the targets of this nonsense are 'extreme right wing activists' the press and the plod are going easy on the perpetrators. Sourberries gets called names and there's arrests all round, but get coated in the semi viscous chemical that passes for a milkshake in McDonald's? Let's see how lightly they get off…..
Nominated by Gutstick Japseye
Addition by Cupid Stunt
John Murphy, who egged Cuntbyn in March, received 28 days at Her Majesty's pleasure. The decrepit old cow that put him away said, "a custodial sentence would send a clear message that attacks on MPs must stop." Let's see what happens to the Milk Shake cunt but don't hold your breath.