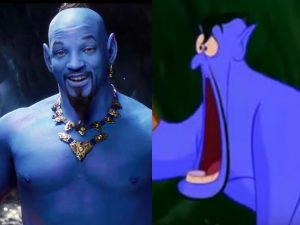 Aladdin is a cunt, isn't he?
This story is having another make-over as Hollywood, bereft of ideas, deficient of creativity, has decided to rehash this hackneyed shit for more moolah.
I thought he was Chinese but it's now set in Arabia. Let the sanitising begin.
No mention of killing infidels or murder training camps because the fairy story of Aladdin was created before the fairy story of Allåh was created. Perhaps they should've made a modernised film, Aladdin joins a death squad, becomes a Religious fanatic, travels through eleven countries perpetually claiming to be a "refugee" then arranges to meet Jasmine, one of his four pregnant 16-year old wives while strapping a bomb to his back but calling it a 'magic lamp." Psh.
As the cherry on the turd, this shitestorm has a special whiff of crap: Will "cuntface" Smith is the Genie which means layers of treacly, smug charm, casual "he's a white boy" comments, and teeth bleached to 'dazzle' mode. What a load of Camel shit on a flying carpet.
? A whole new wo-orrld…✨ Get fucked.
Nominated by Captain Magnanimous