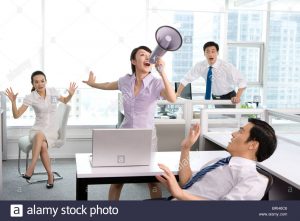 I'd like to nominate loud co-workers, the type who have to shout instead of talk. There's two for a nomination in my office, both wimminz – one always sounds like she's having an argument when she's on the phone. The other is the most pleasant person you could meet, but is she bloody annoying !!! She talks loudly, especially on the phone, where her conversation is always punctuated with loud laughter.
A typical phone conversation as follows :
"Hallo? Haaaaaaallo, hahahahaha, oh did you? oh my god hahahahahaahah. o-o-o-oka-a-a-ay hahahahaah etc…..' on and on ad nauseam.
Whilst on the subject of co-workers, also a nomination for those who eat smelly food in the office and stink the place out, got some of them in my office too, cunts.
Nominated by Mystic Maven