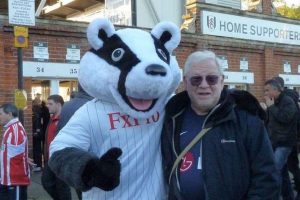 Jon Kotler is a cunt.
Who, I hear you ask? First, he an American. I know, right? Second, and it gets worse, he is a fucking lawyer. Third, for some inexplicable reason he is a fan of Fulham football club.
Let me make it clear that I have no issues with Fulham football club or their fans.
This cunt, however, is suing the Department of Motor Vehicles because they wouldn't let him have a licence plate with COYW on it. Apparently, this stands for Come On You Whites ( the nickname of Fulham football club, or at least what their fans chant at them).
He claims to be all about his right to freedom of speech. Well, I, and anyone reading this, am all in favour of freedom of speech. BUT, when you live in a country where black people are shot by trigger happy white cops for committing the offence of driving while black, to have "Come On You Whites" on the front and back of your car is surely going to encourage some braindead redneck with a shed full of automatic weapons to go and shoot some black people just for the sake of it.
This shit-stirring snowflake, and people like him, who deliberately do things that they know, or if they are an educated adult bloody well ought to know, are likely to encourage people to commit violent acts, are cunts of the highest order.
Nominated by I Want To Be Alone