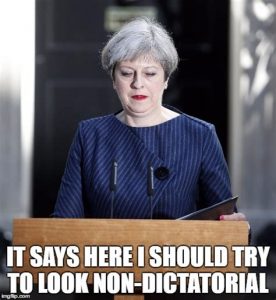 Theresa May is in need of an urgent cunting. So, having spent the past three years being a lying cunt, and less use than a severed testicle, May now intends to ask the EU for permission to extend the deadline for our leaving that shower of shite to June 30th. Now, I have to admit, that as well as all the other reasons for nominating her, I have a personal one. June 30th is my birthday, and I don't want May, or the rest of those EU cock sucking traitors ruining it with their lies, their treachery, their deceit, or even the fact that they fucking exist.
The official date for the UK leaving the EU is the 31st March 2019. But as that date draws nearer, EVERY pro-EU cuck is panicking, Bercow especially, and doing everything they can to stop it happening. Especially May. After Cameron spat his dummy out, I said that May was the worst possible choice to replace him. Since day one, she has done nothing but lie to the British people and capitulate to the EU. "Brexit means Brexit". "No deal is better than a bad deal". "I will be a bloody difficult woman in the EU negotiations". She even lied to her cabinet, telling them that she would not call a general election, then called a general election when the arrogant bitch didn't even NEED to. Now she's come up with Brexit plan that is so bad, it's actually worse than staying in the EU. All while allowing those traitors in the Commons to have meaningful vote after meaningful vote to destroy Brexit. The problem they have, is that there was only ONE meaningful vote, on the 23rd of June 2016. THAT is only the meaningful vote. Because that was the vote in which we gave the British government a mandate to leave the European Union.
I've also been saying for months that May has to go. Well after the disgrace of the past couple of weeks, she DEFINITELY needs to go, and go soon. May has turned the UK into a laughing stock and enough is enough. Today (21st March) she's actually had the gall to tell the British people that she's on our side. Another lie. If she were on our side, we'd have been out of the EU months ago. Look how she handled the malicious midget, Bercow, after his disgraceful show of contempt for democracy and the British people earlier this week. She's done NOTHING. Can you imagine Thatcher allowing that evil little shit to get away with doing what he did? She would have nailed his balls to the gates of Downing Street, with him still attached to them and hanging upside down.
It's a sign of how weak that bitch is that parliament is in such crisis. The Tories have to find a spine and kick that piece of shit out on her arse, soon.
Nominated by Quick Draw McGraw