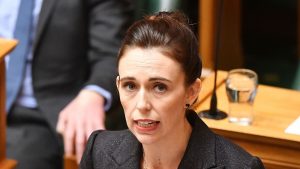 Jacinda Ardern
Didn't know anything about her until the Christchurch shootings. However now we know what a kneejerk, liberal fuckwit she is.
I don't underestimate the horror of what went on but for fuck sake the outpourings from this woman are in a different league.
Here is today's output following the earlier wailing, including wearing a headscarf and refusing to name the moron who did it:
'New Zealand Prime Minister Jacinda Ardern has called for a global fight to root out racist right-wing ideology following last week's deadly attack on two mosques in Christchurch.'
Where is this simpleton when UK and Europe are attacked? Where is she when mosques and markets are attacked in Pakistan, Syria, Iraq, Afghanistan? When planes are downed? When people are murdered or enslaved? Does she really want to make NZ the go-to destination for these fuckers?
The people of NZ deserve better.
Nominated by Cuntstable Cuntbubble